Use A Title Loan Calculator To Get A Title Lending Estimate
Take advantage of a title loan calculator to determine precisely what you will pay with a car title loan. A title loan calculator can also tell you the loan payoff and the estimated lending term. Use this information to get a title loan estimate and better understand the true numbers with a title loan.
The Highway Title Loans payment and interest calculator will give you a good idea of what to expect when it comes to the amount of money you want to borrow and the total amount of interest you will likely pay over the life of the loan. Don't disregard or look past this information. An upfront estimate can save you thousands of dollars over the life of your loan!
What Is A Title Loan Calculator And How To Get A Payment Estimate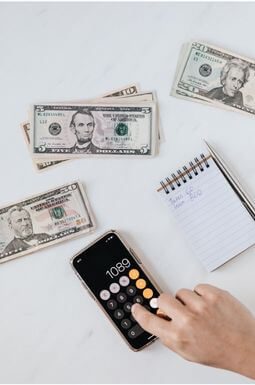 You can save significant money by determining a car title loan's expected APR and monthly payment term. Another benefit is using a title loan estimate to compare rates and terms with different lenders. Just because you have an estimate or quote from Highway Title Loans at a set rate doesn't mean you can get a lower amount or payoff term with another title loan lender near you. Being an informed customer is vital here and it pays to have all the information about your title loan quote.
How To Use A Title Loan Calculator – What Information Do I Need
To get an estimate for title loans online no credit check or inspection you'll need the basic information that covers your prospective loan details. This information often includes the desired loan amount and monthly payoff term for your title loan.
Say for example, you have a bad credit title loan due to be paid off in 14 months. Any loan calculator will tell you how much money you can save in interest charges by paying off that loan in 6 months or any other timeframe less than the original due date. By knowing this data, you can take advantage of the benefits of knowing how much money can be saved with an early payoff and budget accordingly.
Get A Fast Online Quote With A Title Pawn Calculator
A title pawn calculator can help you quickly decide if a title loan is the best option. Perhaps you run the calculations and determine whether the APR is too high or the title loan value of the car is too low to qualify. When you're faced with a loan estimate that spells everything out, you can take that data to another title loan company or lender to see if they can offer you a better deal. While there are no guarantees that you'll be offered a lower interest rate, the information you have will go further in helping protect your financial health than just accepting what any title loan lender tells you because it seems like the only way forward at the time.
Title Loans Can Be A Solution But Estimate Your Loan Payments First
Online title loans can be a viable solution to getting cash fast for almost any reason. Since not many people have stacks of money lying around, they often borrow money as an alternative. Ideally, you can use a title loan calculator to find out how much money you can get and if the rates and terms offered by Highway Title Loans are the best courses of action.
When it comes to car title loans with no credit check you will usually get more money than any other type of loan. A title loan calculator can help you find out exactly how much money. Furthermore, once you have your title loan estimate in hand, you can use that info for comparison shopping between different lenders to get the best terms and rates available.
What's Next After Using A Title Loan Calculator To Get A Lending Estimate
After using a car title loan calculator to get an idea of what payments will be like, you need to first look at the information and determine if that estimate makes you take the next step and apply for a loan. If so, you can start with a more formal title loan quote, and Highway Title Loans can often get you a detailed estimate that breaks down the exact terms and specifics of your loan offer. At this point, you will then be faced with whether to proceed or look at other lending options, and that's the best part of a title loan calculator. It only takes a few minutes to know if an online title loan is the best route or if you should look at other lending choices!