What's Required To Get A Title Loan
Are you interested in seeing how much money you can access with a title loan? Many borrowers turn to these equity loans because they can't qualify for traditional lending offers. Or they want to avoid dealing with the lengthy requirements of personal loans. But what about the requirements for car title loans? You likely know it takes far less time and work to qualify, but what's needed? Let's get right to the details of what you need to get same day cash for your vehicle!
What Are The Requirements For A Title Loan
The basic demands across the secured lending industry are simple to follow and understand. To qualify for a car title loan, borrowers must own their vehicle outright and have the title in their name. The car's title must show you as the car's sole owner, and you can't have any liens or other loans attached to the pink slip. An applicant must also provide proof of income and residency to show the lender they can make the monthly payments.
Besides those main items listed above, the company may want to verify a few less common things. These can include having a valid driver's license, and proof of car insurance, and some title loan lenders may even need the vehicle fully operational. Even if the car has some mechanical issues, that may be ok. But you will still need to inspect the car to show its value matches the current resale amount. Keep in mind individual title loan companies can have their specific requirements in addition to these industry standard qualifications outlined above.
Why Title Loan Requirements Are Less Than Other Loans
Title loans are considered a type of secured personal loan because they use collateral – the title of your car – to secure the borrowed amount. This means title loans typically have fewer and less strict qualifying criteria than traditional personal or unsecured loans. For example, conventional lending options like banks and credit unions often need good credit scores and lengthy applications before approving a loan. With title loans, your credit score isn't always considered when underwriting the lending terms. You can usually get same-day or next-day cash.
While title loans may be a quick and easy solution for accessing funds, they come with higher interest rates than traditional lending options. The tradeoff comes when comparing an unsecured loan and online title loan requirements. You have far fewer requirements during the underwriting process and don't need good credit.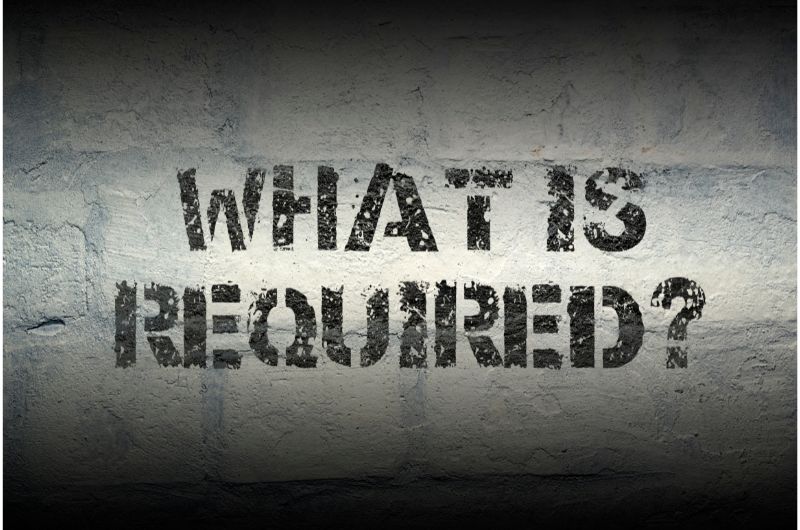 Other Lesser Known Requirements For A Secured Title Loan
We've already touched on the most common requirements a lender will ask for when verifying your application. But what else should you expect if you have all those boxes checked but still face the prospect of not getting approved? There are a few other things a lender may want to see before handing you the cash and that can include a vehicle inspection and accident report. Additionally, you may face a scenario where the underwriter asks for a GPS tracking device placed on the car during the loan term. This is less common, but it's not unheard of and something to consider before applying for a title loan.
Ultimately, title loan requirements are less stringent than other lending options because they use collateral to secure borrowed funds. However, it's essential to thoroughly understand all potential qualifications and potential risks before taking out a title loan. In addition, make sure you can afford the monthly payments and carefully weigh any additional requirements that may come up during underwriting. With those factors in mind, title loans can be a convenient solution for obtaining funds quickly without good credit. Best of all, there's less asked of you as a consumer during the underwriting process.
Tips To Deal With The Current Requirements For An Auto Title Loan
You can save time and hassle by working with a company that knows precisely what you need to get fast cash with an Orlando title loan. Here are some tips we've put together for you to make things as easy as possible when it comes to title loan requirements:
Ensure your title is in your name and free from liens or loans. This is the #1 thing you need with any title loan provider. They need a car with equity to serve as collateral for the loan.
Have proof of income, such as pay stubs or bank statements. Nearly every licensed lender will require proof that you can repay the borrowed money.
Gather any necessary documents, such as proof of residence or insurance on the car being used as collateral. These requirements aren't always mandatory, but having them together before meeting with a lender is good.
Consider getting a vehicle inspection before applying for the title loan. That way, you can have an accurate estimate of how much money you can borrow.
Research title loan lenders and compare rates and terms to ensure you get the best deal possible. Some companies offering loans in Atlanta or Albuquerque may have fewer requirements and require less documentation, which may be reflected in the final funding amount.
Only borrow what you can afford to pay back promptly, so you don't risk losing your vehicle. Find out what you need to do if there's a default risk.
I Understand The Current Lending Requirements – How To Apply
Knowing what you need for a car title loan, you can quickly get a pre-approval and determine your lending terms. Apply with Highway Title Loans, and we will contact you to finalize the underwriting and get you some documents to sign.