Car Title Loans Without A Vehicle Inspection
People ask all the time, can I get a car title loan without having to do a vehicle inspection? The answer is that it depends on certain circumstances, but yes sometimes you can get cash without showing the lender your car in person. A title loan without an in person inspection offers convenience as you may only need to send the lender pictures online. In some cases though, the title loan company will require that you bring in the vehicle for an actual inspection.
How To Qualify For Title Loans That Don't Require A Car Inspection
You can qualify for a no inspection title loan but it will require hitting all the other main underwriting requirements for a lender to not ask to see the vehicle. For instance, title loan companies want to see that have enough equity in the vehicle and that it's worth what you claim. They can check this info by getting your VIN number and running it through the DMV to first ensure the car actually exists and has a clean title. If you have had a loan or lien on the vehicle before, then they can pull up that information too.
All this data will be factored into how much you can borrow. There's always a high risk factor involved with offering a title loan without a vehicle present, and you won't qualify for as much cash as someone who has a clean title and hasn't had any issues with missing payments in the past. The same comparison goes as well with a lender who offers a title loan without an inspection requirement. Of course, they would much rather fund a loan for someone who is willing to show the car in person.
What Happens When I Apply For Car Title Loans Without A Vehicle Inspection
Typically, when applying online for an auto title loan no inspection you will need to check off all the boxes for everything that's required besides an in person inspection. These requirements include verifying your employment, checking your credit score, and providing information that verifies your identity. Once all this is submitted you wait for an online title loan pre-approval through the underwriting department to see if you qualify for a loan without a vehicle inspection.
It usually takes anywhere from 30 minutes to 24 hours before receiving an email or calls letting you know what the financing terms and payoff amount is for your loan. Most auto title lenders will want to send someone out to verify the vehicle exists and check on the current condition. A quick inspection at your house or place of employment can get you quickly approved if you don't want to commit to a vehicle inspection at the lender's office and most companies have flexible appointment options. Whichever method of inspection or auto verification you choose, it's likely there will be limits on the amount of money lent or caps on finance charges if you're less willing to get a title loan that requires the car.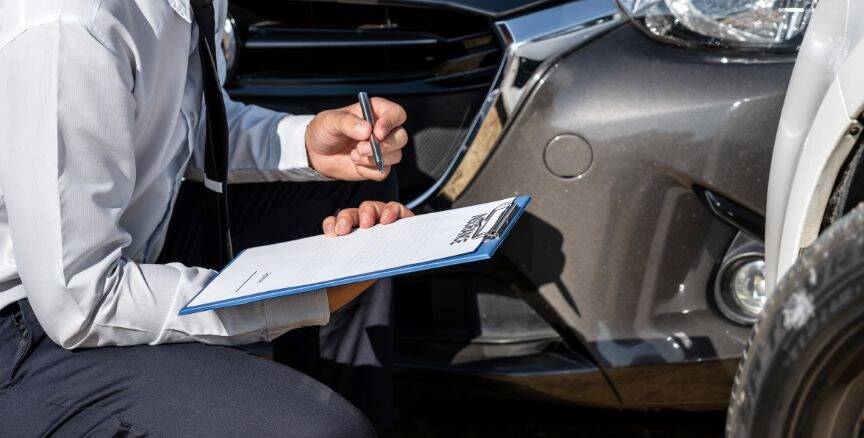 Title Loan Online With No Credit Checks & No Inspection
Another option to consider is an online title loan that doesn't require a credit check or inspection. These types of loans are difficult to get approved for as there's simply not much the lender can verify if they don't check your credit and do a vehicle inspection. The title loan company opens itself up for fraud or other types of lending errors if they offer these car title loans with no inspection and credit checks.
That doesn't mean they don't exist though. There are ways for legitimate online lenders to offer same day cash for title loans even if the vehicle is not present and they don't run a credit check. Most often when people take out these loans the interest rate is going to be very high with an APR of over 100%. High interest rates and other unfavorable lending terms can sometimes lead to missed payments and the prospect of a title loan repossession so you want to carefully consider your options if you are thinking of getting a title loan that doesn't require the car. You can also count on a quick payoff time and some type of authorized vehicle tracking device requirement so the loan company can know where the car is at all times.
Other Requirements For Online Title Loans That Don't Require The Car
Online title loan companies who don't require a vehicle inspection will for sure ask for other methods to verify the car actually exists. Even though they offer title loans without actually seeing the car they will still want to prove as much as possible that the car is real and actually owned by you. Therefore they will absolutely want to see photos or a full length video that shows your vehicle on the inside and out. You will also need to provide the make, model, and year of your car which is nearly impossible to fake if there are also photos or video proof that matches up to what the DMV shows with a VIN check.
A car title loan company will ask for a copy of your valid driver's license along with an active insurance policy showing proof you have full coverage auto insurance on the vehicle. A VIN number may not always be necessary but can be very helpful if you want to speed up the process too. With all this information is submitted online or over the phone with a representative, there is no doubt they can quickly verify the vehicle exists before approving not only title loans but also registration loans without having to see the car in person.
Benefits of Auto Title Loans With No Inspection And How To Apply Online
The benefits that come with no inspection title loans are clear. You're able to get fast cash, sometimes within 24 hours or less and you save time without having to go through a lengthy vehicle inspection that can take hours on end. This is a huge benefit and the loans are easier to get approved for when you know exactly what a company requires for title loans that don't require the car!
The best help you can get is to receive clear step-by-step instructions on what you need to do in order to fill out your vehicle title loan application that doesn't require a car inspection. You can always reference our website for specific questions and concerns regarding applying with a lender near me if necessary. Or you can take the first step and apply online for a title loan where the lender may not even require the car! Get started online or contact us anytime at 877-433-5454 to get cash with no inspection title loan!