Get Up To $20k With An Auto Title Loan In Arizona
Arizona has many options for people to get cash when they need it most. Qualified borrowers can always get cash with a personal loan, but we know most people with bad credit won't be approved. Because of that we now see numerous companies offering car title loans in Arizona. These secured loans offer large amounts of money and you can be approved for same day cash even if you have a bad credit score!
What Are The Requirements For Car Title Loans In AZ?
The requirements for car title loans in AZ are very simple. To be approved for an equity loan you must own a car with a clear title, and you must be able to provide proof of income. You'll also need to have a valid AZ driver's license and your car will need to be insured for the full value. Having a clear vehicle title is the main thing here as that's what qualifies you for this type of financing. When a lender has your car title, they know they can use that equity as collateral.
Other requirements from certain lenders in Arizona can include proof of steady employment that shows you make enough money each month to afford the payments.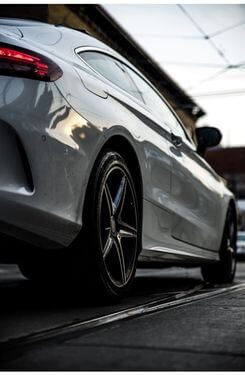 This is not always going to be required however and it's less of an issue for loan amounts under $2,000. You may also need to show proof of registration if you're looking to get money from a registration loan. With these loans, someone in Mesa, AZ can use the vehicle's registration as collateral for the amount you borrow and that negates the need for a car title. Registration loans are great for someone with bad credit who needs emergency cash but can't get approved for title loans because the car's not completely paid off.
Lending Terms & Interest Rates For Arizona Title Loans
The interest rates on car title loans in AZ will vary depending on the lender you go through. Generally, though, the APR will be lower than what you'll find with a payday lender or cash advance company. This is because car title loans are secured loans and that makes them less risky for the lender as there's some type of collateral backing up the loan. Borrowers in parts of the state like Gilbert & Tempe can expect to pay an annual percentage rate (APR) of anywhere between 30% and 300%. Interest rates are always high with title loans as lenders in Arizona are taking on the risk of working with a consumer who wants a high loan amount with bad credit.
Car title loans in Arizona have a term that ranges from 3 months to 2 years and registration loans are often on the lower end of that range. Some licensed lenders will also charge additional fees, such as a processing fee or an origination fee. These fees can add up, so it's important to ask about them before you agree to take out a loan.  Keep in mind that these are just average rates and some companies may charge more or less. Try to pay off your loan as quickly as possible to avoid the finance charges on the backend of the loan.
How Much Money Can I Borrow With Vehicle Title Loans In AZ?
The amount of money you can borrow with car title loans in AZ ranges from $1,000 up to $20,000 for a car with significant value. Funding amounts for registration loans on the other hand are much lower and come in at amounts between $300 and $800. The actual amount you're approved for will depend on the car's value and other factors such as your ability to pay back the loan and which lender you're working with. Some finance lenders in Phoenix for instance are known to offer higher percentages of your vehicle value as a loan when compared to other title loan companies throughout the valley. While the amount for a title loan in Arizona will vary, the average loan amount is around $3,000. We recommend that you first get an estimate of the amount you can access by using our title loan calculator. With this tool, you can quickly see what the expectations are for loan amounts and interest rates.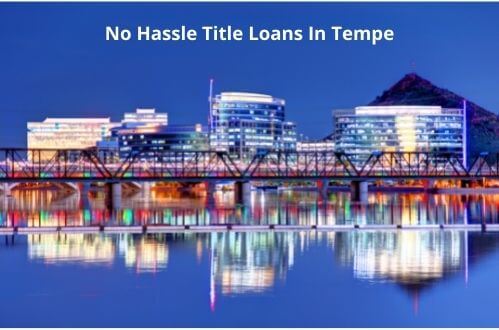 Apply Online Or With A Local Title Loan Provider In Arizona
The option of what type of company you apply with is entirely up to you. But, there are benefits and drawbacks of working with an online company versus a local lender in Phoenix or Scottsdale. The benefits of working with an online title loan company include convenience and speed. You can apply for a car title loan in Arizona from the comfort of your own home and receive a decision in minutes.
Local lenders in Arizona may be more likely to approve you if you have bad credit, but they also come with their own set of drawbacks. One is that you'll need to go into a physical location to sign the loan agreement and pick up your cash. This means taking time out of your day to drive to a lending office in Mesa which can be difficult if you work in Tempe or have other obligations. The process can also take longer as the company will need time to perform a car title search on your vehicle.
No matter who you decide to go through for your car title loan in Arizona you should take the time to determine if this is the best way to get cash. If you have good credit you may want to go with a bank lender or finance company as the interest rate will be much lower.
How To Apply For Online Title Loans In AZ?
First of all, you will need your car title or vehicle registration for a car that's licensed in Arizona. These document is used as collateral for the loan and must be provided to the lender when you apply. The car title should also be in your name in order to qualify for a car title loan.
You can then go online and find a service like Highway Title Loans that works with people looking for fast cash loan options in Arizona. The application process is simple and takes just a few minutes to get started. You'll need to provide some personal information such as your name, address, phone number, and email address. You'll also need to provide information about the car including the make, model, and year. With that, you can see exactly how much cash is available for your vehicle's title!