Columbus Title Loans With Fast Same Day Funding
If you own a car outright and need a bit more cash, you may consider a car title loan in Columbus, Ohio. Here's what you need to know about these loans and how to apply for one.
What Are Car Title Loans And How Do They Work In Columbus, OH
Title loans are short-term secured loans which that use any type of vehicle as collateral. You can borrow money using the available equity in your car or truck versus what a personal loan company offers with unsecured loans. Your lender will offer you a cash loan based on that collateral and you won't need to hand over the vehicle as security. Instead, your pink slip serves as the security and then you can pay down the loan amount with set monthly payments. Title loans in Ohio will often have much higher interest than other types of loans, so they should only be used as a last resort.
How Much Can I Borrow With A Car Title Loan In Columbus?
The cash available from a title loan company depends on the vehicle's current value. Most lenders that Highway Title Loans works with in Ohio will loan you 45% to 60% of the wholesale value of your car. So, if your vehicle is worth $10,000 you could borrow between $2,500 and $5,000. Of course, these final funding amounts will all be determined by the current vehicle resale value and your monthly income. The more money you take home each month, the higher amount you can potentially borrow from a lender in Columbus.
What Do I Need To Apply For An Online Car Title Loan In Columbus?
To apply with Highway Title Loans, you need a clear or lien-free car title in your name, proof of residency (a utility bill or other document showing you reside in Ohio), and your driver's license or state-issued photo ID. That's it! We can even help you get started with our online application so that you can get the cash you need quickly and easily without having to drive to a local lending company that's near you.
Even though you can get the process started entirely online, you may still need to bring in your vehicle for an inspection. These inspections take less than 15 minutes and help the lender properly assess the value of your car. Most companies in Columbus will want to see the ins and outs of the car and they will also ask to view the engine compartment and verify the vehicle runs properly.
What Is The APR On A Vehicle Title Loan In Columbus, OH?
The interest rate for instant title loans near me in Columbus will vary depending on the lender that you choose to work with as well as the current market rates. However, lenders in Ohio will charge between 60% and 300% APR for these types of loans. If you borrow $1,000 from a lender at 300% APR and don't make any payments for a year, you would owe them $3,000 in interest alone! That's why it's so important only to use these loans as a last resort and that you can afford the monthly payments before taking one out. One thing to point out is that you should attempt to pay down the balance with every payment by making extra payments or paying more than the minimum due each month.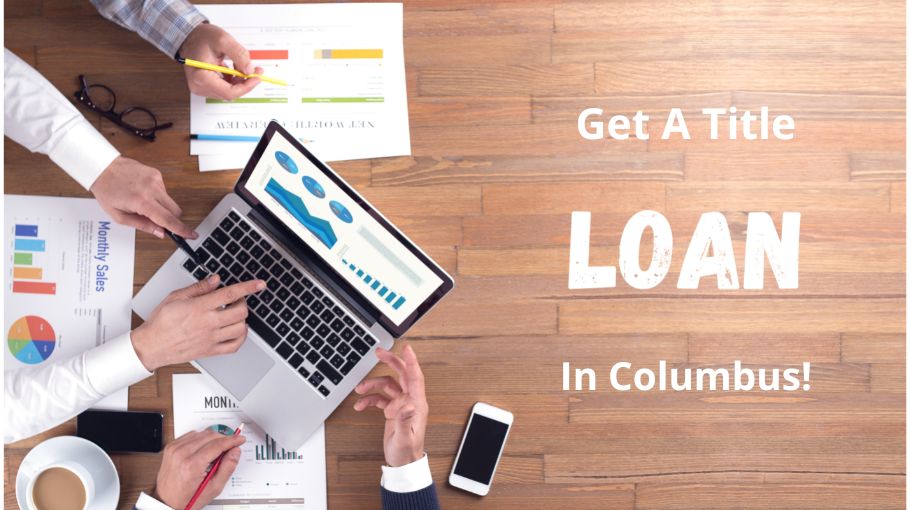 Repayment Terms For Online Title Loans In Columbus
Most car title loans in Columbus will have to be repaid within 9 months, but some lenders may give you up to 2 years to repay the total funded amount. Of course, the longer you take to repay the loan, the more interest you will pay. That's why it's important only to borrow what you need and to be sure that you can afford the monthly payments before filling out an application for a car title loan.
What About Bad Credit – Can I Still Qualify For A Title Loan In Columbus OH?
Even if you have bad credit, you may still qualify for a car title loan in Columbus or Cleveland, OH. That's because your vehicle's value secures the loan, so the lender has less risk involved. However, because of this increased risk, you can expect to pay a higher interest rate than someone with good credit.
If you're struggling to get quick approval for a traditional loan because of your bad credit history, then it may make sense to tap into some of your vehicle's equity and use that as collateral for a high dollar loan. Take out a loan for what you need and compare different ways to pick up your cash from a direct lender in Franklin County, Ohio.
How To Get Started With A Secured Title Loan
Getting started with the application process is easy! You can begin by filling out our online application or by giving us a call at 877-433-5454. We'll then collect some basic information about you and your vehicle and connect you with one of the best lenders near you. Once connected, you can finish up the process by bringing in your vehicle for an inspection and collecting your cash!
So what are you waiting for? A car title loan could be the perfect solution for those needing cash fast. Get started today and you could have the money you need in as little as 24 hours! We work with customers online or in person at different lending offices in Columbus and you can get a fast pre-approval in less than 30 mins!