Apply Now For Fast Cash With Car Title Loans In Cleveland
If you require money to pay for unplanned expenses, you may be wondering if secured loans are an option for you. Car title loans allow a borrower to tap into the equity that's built up in their vehicle. That equity is then used as security or "collateral" for the secured loan. This can be a viable option for those who need money fast and do not have the best credit score. Another benefit is that you can drive your car as you make the monthly loan payments. There's no need to hand over the vehicle as security for the amount borrowed; the lender will use your title docs collateral. Keep reading to learn more about car title loans in Cleveland and how they work.
Requirements For Title Loans In Cleveland
To get a hassle free title loan in Cleveland, you must show proof of a title for your car that's totally paid off. There can be no liens and your lender will typically want to see visual proof that the car exists and is in good running condition. You will also need a valid driver's license and proof of insurance covering the vehicle's loss. Other requirements may include the need to show you have a job and can make the expected loan payments.
How Do Car Title Loans Work In Cleveland
The process for getting a title loan in Cleveland is relatively straightforward. The first step is to fill out an online application or contact a local finance company. Once you have been approved for the loan, you will need to bring your vehicle to the lender for a brief inspection. The inspection is used to determine the value of your vehicle and exactly what amount of cash you can borrow against it. The inspection is primarily done at an office location anywhere in Cuyahoga County, OH and it takes 30 minutes or less.
After the inspection, you will be given a loan amount and asked to sign a loan agreement. This agreement will outline the terms of the loan, including the repayment schedule and interest rate. Once the paperwork is complete, you will be given the cash from the loan and can drive away with your vehicle.
What Are Some Drawbacks That Come With Title Loans In Cleveland OH
While car title loans can be a great way to get quick cash in all parts of the state, they also come with some risks. It is important to understand how they work before applying for one as the fees and interest charges can add up quickly. There are some state limits when it comes to the rates a lender can charge in Cleveland, Columbus, or Akron, but even with these limits, the rates are still quite high. If you are not able to make the monthly payments, you could lose your vehicle. That is why it is so important to make sure that you can afford the loan before signing on the dotted line.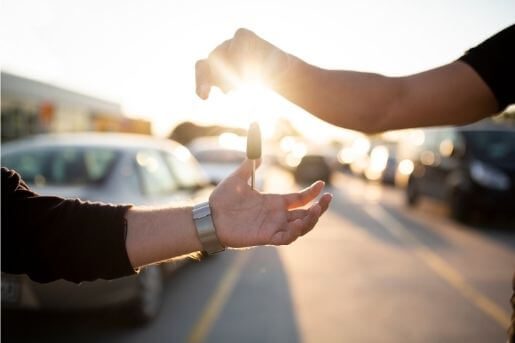 Should You Apply For An Auto Title Loan Online Or With A Local Company In Cleveland?
Now that you know more about auto title loans in Cleveland and how they work, you may be wondering if it is better to apply for one online or with a local company. While there are benefits to both options, applying online may be the best choice as it can be faster and easier. With an online lender, you can fill out the application and get approved for a loan all from the convenience of your house. That can be a big bonus for someone who doesn't have much time to drive around and compare different quotes from companies in Cuyahoga County.
On the flip side, a local licensed company can be a good option if you want to work with someone face to face and you may also get the chance to grab your money that same day immediately after the loan closes. This can give you the chance to ask questions and get more information about the loan process. You may also negotiate a lower interest rate or monthly payment when working with a local company.
Can I Get A Same Day Title Loan In Cleveland With Bad Credit?
While there are title loan companies that offer same day funding, it is important to remember that a bad credit history will play a role in the approval process. If you have bad credit, it may be difficult to get approved for the amount you want. It's always a good idea to check your credit report before applying for any type of loan.
That doesn't mean however that you will always be denied by a Cleveland title loan company if you have bad credit or have simply missed some recent loan payments. Lenders know that people's circumstances can change and that auto equity loans are often used by those who need quick cash for emergencies. If you have a steady income and can prove that you can make the monthly payments, you can be approved even with poor credit!
No matter what your financial situation is, it's always worth checking with a vehicle equity lender to see if you qualify. You may be surprised at how easy it is to get the cash you need when you need it and having a credit history that's less than perfect is not ideal but it probably won't preclude you from being approved for a vehicle title loan in Ohio.
Apply Now For Car Title Loans In Cleveland, OH
If you're looking for quick cash, you should consider the different lending options from Highway Title Loans, such as a registration loan and auto equity loan, and you can always apply quickly online.
Remember these important facts if you are interested in getting an online title loan in Cleveland, Ohio. Secured loans are a great way to get quick cash when you need it, but there are also some risks involved and that's especially true when talking about loan amounts over $5,000 that often come with a high APR. Make sure you understand how they work and what the requirements are before applying.
You can get started on a quick online application with Highway Title Loans and you should hear back from a customer service agent about 15-20 minutes after you apply!