Use The Equity In Your Car For A New Hampshire Title Loan
If you own a vehicle that's entirely paid off and need fast cash for any type of financial emergency, one option is to get a car title loan in New Hampshire. Instant online title loans are secured loans that use your car's equity as collateral for the full loan amount. Lenders prefer these types of loans to unsecured loans because they know you're putting up security for the amount borrowed.
Title loans in NH are great for borrowers who may not have the best credit and are also looking for a higher loan amount than what they could get from a traditional lender. These loans fund quickly and you can possibly get your cash in just a few hours if you work with a local company.
Auto Title Loans In New Hampshire Have The Following Requirements:
– You must be at least 18 years old and show proof of NH residency in the form of a driver's license or state ID card.
– You must have a free and clear vehicle title that shows you as the only lienholder. There can be no other loans or liens that show up on the title.
– You must have proof of income in the form of monthly pay stubs or forms that show you have enough income to afford the amount borrowed.
– You must provide proof that the vehicle is currently registered and has vehicle insurance that's current with full replacement value.
How Much Can I Borrow With Online Title Loans In NH
The amount of cash someone can borrow with an auto title loan depends on the value of the car. Lenders will give you a loan worth up to 50% of the current pink slip value and on average that leads to loan amounts of $1,200 to $3,600 in New Hampshire. We see higher funding amounts in larger cities like Nashua and Manchester for the simple reason that there are more lenders in these areas and you'll likely see more competition for your business.
To determine your exact loan amount it's best to start with a title loan calculator. That way to can check the title loan value of your car based on the current lending parameters in New Hampshire. The most important requirements for a qualified vehicle are the current mileage and year and make of the car. Once you have a quoted estimate you can start shopping around for the best title lenders in your area.
Are Car Title Loans In NH A Good Idea? – Lending Rates and Terms To Expect
The biggest question when it comes to title loans is always if they are worth taking out. We believe that title loans can provide a real financial lifeline to people who may not have any other options. That being said, title loans aren't ideal for everyone and should only be used in certain situations like medical emergencies or unplanned home repairs.
If you decide that a title loan is right for you then there are some things you should be aware of before signing on the dotted line. First, car title loans come with much higher interest rates than what banks and credit unions in New Hampshire offer. The APR for a typical title loan in NH will come in at 45% on the low end and go up rapidly from there. Keep in mind this is an annual percentage rate and the goal with any secured loan is to make rapid early payments to pay down the principal as soon as possible.
The second thing to be aware of is the length of time you have to repay the title loan. Most lenders licensed to provide loans in NH will set these terms at 30 days but some short-term title loans may have terms of just 2 weeks. In any case, title loans are not long-term financial solutions and are meant to be repaid in full plus interest within a few weeks or months.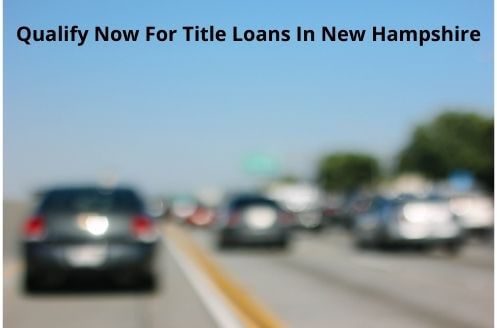 Can I Get A Title Loan In New Hampshire If I Have Bad Credit?
For many people in NH with bad credit, auto title loans are one of the only financing options available. That's because online title loans are secured with your car equity so the lender isn't taking on as much risk by lending you money. As such, they're more reliant on the vehicle's resale value and your credit score is far less important. In fact, you can often get title loans with no typical credit check in New Hampshire.
If you have bad credit or no credit at all then make sure to shop around for title loan companies that don't require a minimum credit score. These lenders will be more likely to give you a title loan even if your score is low or if you have a recent bankruptcy on your credit history. You can also try to get pre-approved for a title loan online which will give you a better idea of what terms and rates you'll qualify for before heading to a local lender that may require some type of formal credit check.
Apply Completely Online Or With A Local Title Loan Company In NH
You have three different options when it comes to how you want to apply for title loans with no income in New Hampshire. The most reliable choice is to apply with a title loan company that has a storefront location in your city or town. This way you'll be able to work with a loan specialist in person and get all your questions answered before signing on the dotted line.
The second option is to find title loan companies that operate completely online. These lenders may not have any physical locations in Concord or Manchester, but they can often provide title loans with no credit check in New Hampshire and will wire the money directly to your bank account once you're approved. The only downside is that it's harder to get immediate customer service when you have questions or concerns about your title loan.
The third and final option is to apply for vehicle title loans through a multi-state title loan company that lets you apply over the phone. Anyone who wants to apply directly with a lender on their phone needs to make sure they're calling during normal business hours. That means someone in Dover NH that doesn't want to take the time and deal with the hassle of finding a local lender can complete the entire process online or over the phone. It's also important to set aside at least 30 minutes to review all the contract details and electronically sign the documents.
Contact Highway Title Loans to apply either online or over the phone. You can fill out our online application or call us at 877-433-5454 and we'll get started right away with your application for a loan!