Auto Title Loans In Atlanta With Same Day Funding
Do you live in Atlanta, GA, and are you currently looking for a short term cash loan to cover unexpected expenses or pay for bills that always seem to pop up? Are you getting frustrated after being turned down by the big banks and different loan companies because you have poor credit or requested a loan amount that's too high? If so, we have a solution for you, and it's called a car title loan.
When you take out a secured loan, you're effectively leveraging the equity from your vehicle and using that as collateral for a secured loan. Lenders know that people take out title loans to get cash quickly and borrow more than a few hundred dollars. With auto equity loans in Atlanta, you can borrow up to $15,000, and you don't need to show a positive credit report when you apply.
Underwriting Requirements For Car Title Loans In Atlanta, GA
To apply for title loans in Atlanta, you will need a car that is paid off or almost paid off, and it must have a clean title. There's also a requirement for employment verification or statement to verify your monthly income. You will also need to provide an Atlanta area lender with basic information about yourself, such as your name, address, phone number, and email address.
Once you have submitted this information, a loan representative will contact you to discuss your loan amount and answer any questions you may have. If you decide to move forward with the loan, they will then send you a contract to sign electronically. This contract will outline all the terms and conditions of the loan, including the repayment schedule and interest rate. Most finance companies that offer loans in Georgia will solely base the loan decision and funding amount on the equity in your vehicle. Therefore, the more your car is worth, the higher the loan amount.
Once you have signed and returned the contract, the lender will process your application quickly and underwrite the loan. If everything goes smoothly, the money could be in your bank account within 24 hours. If you have any questions about title loans or would like to apply for one, contact us today! We are a company that offers same day funding and are here to help you get the cash you need now.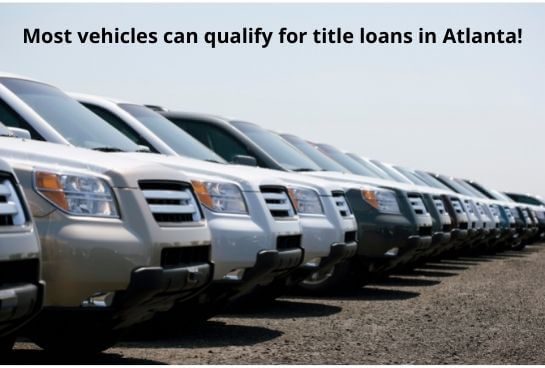 How Much Cash Can I Borrow With An Atlanta Title Loan & What's The Interest Rate
The amount of cash available with a title loan depends on a few factors. The most significant factor is the value of your vehicle. The more equity you have in your car, the more money you can borrow. Lower value vehicles with high mileage may be challenging to get approved. Still, on average, you can borrow anywhere from $2,000 to $5,000 with a local lender.
The interest rates vary from lender to lender, but it starts at around 40% APR and can go much higher than that. This may seem like a high rate, but it's important to remember that title loans are secured loans meant to be paid within a set amount of time. Borrowers go into these loan agreements planning to pay off the full amount quickly and you should find a top title loan company in Atlanta that doesn't charge pre-payment penalties.
How Much Time Do I Have To Repay The Amount Borrowed
Repaying the loan is easy and convenient. Atlanta's best title loan companies will work with you to create a repayment schedule that fits your budget and needs. You can make weekly, bi-weekly, or monthly payments until the loan is paid off. Another option to consider when making payments is to pay extra monthly to pay off the full funding amount anytime you have extra cash. By making aggressive payments and paying more than what's required, you can avoid expensive interest charges and best off all get the pink slip back!
What Happens If I Cant' Pay Back A Lender That's Near Me In Atlanta
If, for some reason you can't make your monthly payment, contact your finance company right away. Many companies will work with you to create a new repayment plan or may even extend the loan. However, if you don't contact the lender and stop making payments, they may eventually repossess your vehicle. The city of Atlanta has restrictions in place for lenders when it comes to vehicle repossessions, but if you don't get current on your payments they have every right to sell the vehicle at auction. Having a vehicle repossessed by a title loan company is something that should be avoided at all costs. The last thing you want to have to happen is to lose your vehicle and have that go on your credit report!
Is It Better To Apply Online Or Should I Work With A Local Auto Title Lender In Atlanta, GA
There are benefits to both applying online and working with a local car title loan company. Applying online is convenient and you can typically get pre-approved in minutes without having to leave your home. You also have the option to shop around and compare rates and terms from different online title loan lenders. The downside is that you may not get the same personal service that you would receive from a local lender that knows what the lending environment is like in Atlanta.
When you work with a local company in GA, you have the opportunity to build a relationship with the lender which could be helpful if you ever need to extend the loan or can't make a payment on time. Lenders in areas like Brookhaven or Grant Park may be able to offer lower interest rates since they don't have the overhead costs associated with online lenders. You can pick from any number of companies in Downtown Atlanta that provide quick onsite cash for vehicles. There are also firms in Buckhead and Midtown that can process loan applications that same day and offer cash for your pink slip.
Apply For Car Title Loans Online In Atlanta, GA Today
Are you ready to get started today with an application for an online title loan in Atlanta, GA? If so, we can help you get started! The team at Highway Title Loans helps customers all throughout the day and we're ready to walk you through the online application. Apply directly online or contact us at 877-433-5454 and we'll find out exactly how much money you can get for your vehicle!