The Best Same Day Car Title Loans In Miami
Miami is one of the largest cities in Florida, and we hear from people who are facing a cash crunch but don't know where to turn. One of the newer options for customers looking for a more significant amount of money is to take out a title loan. With a secured loan, a borrower can tap into the equity from their vehicle and use that money to pay for emergency expenses or any other financial need.
If you're looking for guaranteed approval funding, you'll want to know the maximum loan amount, what's required, and whether you can get a loan with bad credit. Here's a quick rundown of what you need to know about title loans in Miami.
How Much Can You Borrow With An Auto Title Loan In Miami?
The funding amount for instant auto title loans in Miami will depend on the value of your vehicle. You should be able to access around 40-75% with a secured loan. In other words, let's say you have a car or truck that's worth $8,000. You should be able to borrow $3,500 to $6,000 with your vehicle equity. Some companies allow you to borrow higher amounts. Still, really your funding amount and vehicle value are determined by several factors, including the make, model, and year, as well as the mileage and overall condition.
When you apply for an initial quote, an underwriter will want to first check the car's resale value. This is done with KBB or other services and that amount is used as a benchmark to determine the loan amount. After you're initially approved there will likely be a vehicle inspection that can be done in person at an inspection location or at your home or office. The final loan decision and funding amount will be based on the condition of your vehicle and how effectively it matches the current resale value. You may find a finance lender that offer title loans with no inspection, but they'll still need some type of visual proof of the vehicle through pictures or a video and the loan amount will be lower.
What Do I Need For Car Title Loans In Miami?
In order to get a car title loan in Miami, you'll have to provide a few necessary documents. First, you'll need to have a clear title that's paid off with no current liens. You'll also need to provide proof of income, as lenders will want to see that you have the ability to repay the loan. Various lenders will allow a paystub or bank statement that shows how much money you bring in each month. You will also need a valid Florida ID and proof of insurance that covers the vehicle replacement value.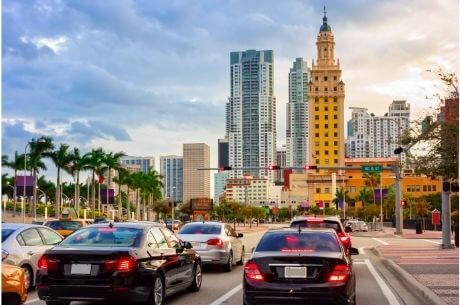 Can I Get A Vehicle Title Loan In Miami With Bad Credit?
Vehicle Title loans are typically available for all types of borrowers, including people with bad credit or no credit history at all. The reason you don't need excellent credit scores is that these loans have equity backing up the loan amount, so even if you have bad credit, the underwriter sees equity in your car and is more likely to approve your loan. Most firms that offer guaranteed approval online title loans in Miami won't even check your credit history and the ones that do will only want to verify your recent lending information and personal borrowing history. They will look beyond past credit mistakes and instead focus on the value that's available in your vehicle.
How Long To Get Money From A Title Loan Lender Near Me In Miami
One of the biggest benefits of title loans is that they're fast. In most cases, you can get your money in as little as 24 hours after you apply. And because the payments will last for months and not years, you won't have to worry about a long-term commitment.
The typical title loan company in Florida can have the funds sent straight to your bank account within one business day of you getting approved. For those who apply on a weekend or holiday, it may take 1-2 days longer as the funding is all dependent on the bank processing.
If you live in Miami you may be able to get the cash that very same day from a local finance company anywhere in Miami-Dade County. You can apply online and then pick up the funds within an hour or two from a lender that allows same day funding. There are dozens of lenders in South Beach and Little Havana that offer car title loans and most can get you processed and funded in less than one hour!
Additional Benefits Of Instant Approval Title Loans Near Me In Miami, FL
In addition to the benefits mentioned above, title loans in Miami also come with a number of other perks. For one, auto equity loans are typically much more affordable than payday loans or online cash advances. The interest rates and fees for title loans near me are much lower than those for other types of short-term loans and you can get the cash quicker by working with a local finance company in your local area.
In addition, equity lenders will never require you to renew your loan or roll it over into a new agreement. Once you've repaid the loan in full, the title to your car will be returned back to you and you're free to use it as you please.
Lastly, online title loans may be able to help you build or rebuild your credit history. As long as you make timely payments and don't miss any deadlines, your lender should report the on time payments to the bureaus.
What Else To Know About Miami Title Loans And How To Apply Online
Title loans are not for everyone and there are some things that you should be aware of before applying. For example, title loans are not as costly for those who are not able to repay the loan on time. If you miss a payment or fail to pay the loan off in full, you may be at risk of losing your car and you can even own your lender additional cash if the vehicle goes to auction and sells for less money than what you borrowed.
Expect high-interest rates and fees with any firm you contact, so it's important to compare interest rates and fees between lenders before choosing the best company. The cost of living in Miami is high and the amount of money from a secured lender can be beneficial, but it's important to choose the best long term financing offer. And finally, title pawns are short-term loans and should only be used as a last resort when you need cash quickly but don't have the option of other traditional loan offers.
When you're ready to apply for an online auto title loan in Orlando, Miami, or anywhere else in Florida, simply enter your information into our online form and we'll connect you with a local lender right away. Once you're approved, you could have the cash you need in as little as 24 hours! So don't wait any longer, apply now and get the money you need today.