Apply For A Same Day Car Title Loan In Washington
Do you want to apply for an auto title loan in Washington, but can't seem to find a lender that offers cash in less than 24 hours? Highway Title Loans can now offer cash funding from car title loans online in Washington! We have simplified the application process and you can get cash with a vehicle in less than one business day. Borrow up to $25,000 with an auto title loan and you will be able to keep driving your car as you make the monthly payments.
How Do I Get A Car Title Loan In Washington
The entire application process for an online title loan from Highway Title Loans can be completed online and takes less than five minutes. You will be required to enter in your personal information, the year, make and model of your vehicle, as well as its mileage. We will then verify this information and see what offers are available based on your vehicle information and other underwriting factors. Once we have received this information from you, we can present you with a guaranteed offer that will be available when you submit your application.
When you apply for a car title loan in Washington through us, there are no hidden fees or extra paperwork. All online applications are contacted within 15 minutes and you should have a general outline of payoff terms and loan amounts within that same day.
Requirements For Title Loans in Washington
The main requirement that any applicant needs is a paid off vehicle. You will need to give the lender your updated vehicle title which shows you are the only owner and there are no liens against the title. There are some scenarios where you have an active lienholder and you can still get cash with a title loan refinance or buyback, but for the most part, you will need to own your car free and clear. Title loan lenders in Washington will also require proof that you have a job or a valid source of income. This can be in the form of paystubs, W2s, or in some cases, a bank statement.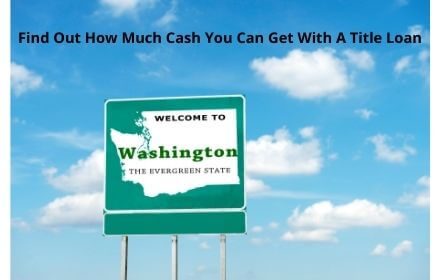 How Much Cash Can I Get With A Title Loan in Washington
Loan amounts can be between $300 and $25,000 with a title loan in Washington. Since you are borrowing against your vehicle's value, this is usually capped at 70% of the car's resale value. Some cars may have a higher value in large cities like Seattle and Spokane, but you can still expect a fair title loan offer that's based on the car's value Our lenders will determine how much you can borrow based on what they believe to be the appropriate cap for your car. You may have heard of other lenders who say that their interest rates are so low because they lend up to 100 of the value, but those cases are rare and you should question any lender in WA that offers a loan that's not consistent with your current car's worth.
Get My Application Started Online Or With A Lender Near Me In Washington
You have multiple ways to apply if you have the need for a title loan in Washington State. The easiest and most popular option is to apply for an online title loan. That way you can get your application started right away and you may be able to get an offer that same day in cities ranging from Tacoma to Yakima. Another option is to contact some lenders directly in WA by calling them simply to find a local neighborhood title loan company near you. There are dozens of established title loan providers all over King County and you can even find some loan providers in smaller towns like Pullman and Vancouver. Rest assured there is likely a company willing to offer your a title loan within 20 miles of where you live in WA.
If you do decide to apply online, we will review your details and then connect you with one of our nearby lenders in Washington who can help you get the cash you need for any unexpected expenses. We understand that emergencies happen which is why we are happy to let you know that even if your loan application is turned down, you may still have options with a local lender near you that may offer a smaller amount of cash for your pink slip.
What Are The Rates With Bad Credit Title Loans In Washington
Interest rates for bad credit title loans in Washington State can be as high as 70% APR if you're not able to get a lower rate due to having some negative items on your credit report. The majority of lenders will offer loans with an APR that starts at 30% and that rate can be manageable if you plan on paying off the loan quickly. We also provide our customers with affordable monthly payments via automatic withdrawals from their checking accounts or debit card. Customers in Seattle can meet with a local lender in person to get their money and they may even be able to make in person monthly payments if their company allows that.
The terms of your loan will depend primarily on how much cash you need, but car title loan lenders in WA can give up to 36 months of repayment terms for borrowers who require more time before they're able to settle the full loan amount. Most payoff terms will start at 12 months and go up from there, but you still have the option to pay off your loan in full or make extra payments at any time.
Contact Highway Title Loans to find out what you can get for your car title in Washington! Our online title loans offer a quick way to get money and you can reasonably expect a funding decision in less than an hour and cash in hand that same day!