Much like payday loans, each state on its own will determine what type of lending regulations to set. They can outright ban car title loans, limit the amount you can borrow, or hold off on regulations all together. A few states don't necessarily allow you to use your vehicle equity as collateral, but they have loopholes where you can still get an online title loan. Let's look at California for this example. In CA you can often get approved for financing on loan amounts between $2,500 and $10,000. A while back, the State legislature capped interest rates on amounts below $2,500 and you don't see many companies providing loans under that amount. However, a recent regulatory update in California promises to completely change the game.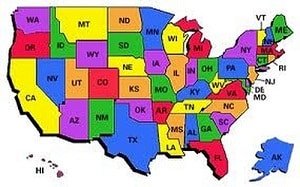 With the passage of AB 539, the State legislature has capped interest rates at 36% for all loans under 10k. While this law has not yet gone into effect, Assembly Bill 539 will surely limit the amount of loans available to people who surely need fast cash. Most lenders have already said they are going to pull out of the market as it's not possible to offer financing with rates below 36%.
There are a number of states that outright ban title loans. Weren't not going to list all the specific states in this article that ban equity loan. But we will give a few examples and break down what the rules are. Some states like Kansas do not allow auto title lenders to provide funds. However there are ways to work around this. Some companies will extend loans and market these as open-ended credit. Interest rates are very high with these online loans and there's no cap on the amount that can be lent. Other states, like New York and Massachusetts completely ban all types of car title loans. No matter how hard you try or how committed you are, there's really no chance you can use your vehicle as collateral in those states. In addition to banning companies that offer online title loans, they also restrict payday loans, installment loans and most other kinds of cash advances.
It will be interesting to see what happens on the federal level when it comes to short term lending regulations. These include payday loans and online title loans. The CFPB and FTC has long promised to regulate these industries but nothing has been put into motion yet. The Consumer Finance Protection Bureau claims to regulate any title loan company across the country, but there have to be strict regulations for lenders. Further, these guidelines and restrictions would need to pass court challenges and other roadblocks that you can bet would occur. It seems the current administration is ok with letting the individual states set regulations and monitor the rates and restrictions for the respective state. The CF