What Is Required For A Title Loan Refinance
Do you currently have a title loan but feel stressed from the high payments or excessive APR? Highway Title Loans can help you with a title loan refinance. When you refinance a title loan you should be able to get a lower monthly payment and quicker payoff!
How To Refinance My Car Title Loan With Highway Title Loans
All that is required for a typical title loan refinance is for a borrower to bring the vehicle, current title loan details, and documents as well as any other paperwork necessary based on your state. Once everything has been received then our staff will be able to figure out how much money you can save and what the new financing terms could be. The length of time for this process should take no longer than 30 minutes unless something unforeseen comes up which would cause the process to take a bit longer.
A typical title loan refinance will take a shorter amount of time to process than a car title loan. That's because a refi will require far less information and the underwriting process is much quicker than when you first applied to use your car as collateral for a loan. We already know an existing title loan company has your pink slip and at this point, it's all about figuring out the new financing terms and amounts.
How Much Can I Save With A Title Loan Refinance?
A title loan refinance can literally save you thousands of dollars over the life of your loan! In most cases, you should be able to get a lower monthly payment with a title loan refinance. This means that Highway Title Loans may be able to give you more time before having to pay off your title loan completely saving you money every month until it is paid off in full! On the flip side, what if you want to pay off your online title loan quicker than what's required with your current payment terms? In this situation, you would look to get a more favorable interest rate which is combined with a faster payoff to cut your lending term in half!
Consider an online title loan refinance as similar to what happens when someone wants to improve their APR or payoff amount with their home or vehicle. You have the opportunity to refinance your loan to give you a lower monthly payment or more time to improve these metrics and terms by refinancing this online title loan. So many loan borrowers have been in this exact situation where it seems like the monthly payments will never stop and the interest and finance charges are causing your balance to decrease ever so slowly. Take charge of your loan payoff and apply for a title loan refinance when you're first eligible!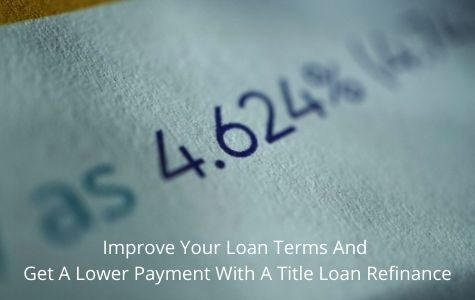 Other Benefits That Come From Refinancing With Highway Title Loans
Besides lowering your interest rates and monthly payments, you can also count on some unexpected benefits from a title loan refinance. Did you know you may be able to skip the first monthly payment when you refinance your loan? That's right, much like a mortgage refinance, the new lending terms are often set for a month out and most lenders will let you skip or bypass the next monthly payment with most online title loans. You may also see new title lending companies waive your title loan origination fees and other fees and charges that the original lender added to the previous financing contract.
Another great benefit of refinancing your title loan is that you may be able to refinance the title loan with a newer model vehicle! This means car title lenders can take your current title and pink slip and turn it into money for you using the equity in your existing vehicle. The new terms and repayment schedule will simply go by whatever value has been determined on the updated title document and security interest contract.
Can I Still Qualify For A Title Loan Refinance If My Vehicle Mileage Has Increased
Yes, all legitimate title loan companies know you're going to add mileage and wear and tear to your vehicle. Even though the resale value of your car will be down when you apply for a title loan refinance, the odds are that you've also paid down the original amount owed and most of these issues should equal out.
A typical applicant will apply to refinance bad credit title loans after 12 months with their previous lender. This is because the title loan monthly payment will not be less than what you're currently paying on your title loan and the majority of applicants don't see much progress on paying down the balance until the back half of their loan payoff. Since your title lender has already factored in your current monthly payments plus finance charges, interest rates are one of the last pieces of information needed to complete this refi paperwork.
Online auto title lenders are also okay with verified higher mileage on your vehicle as long as they can still value it at least equal to how much was originally paid for the auto title loan. This number is based upon their automatic valuation reports that come back from different auto dealerships throughout the country. This means if you have an older car with extremely high mileage the chances are it won't qualify for a title loan refinance, but really you never know until you apply!